November 27, 2019
Big Chat: Bundobust
From Bradford, with Love: Charting the Bundobust journey, from one-off collab to multi-venue success story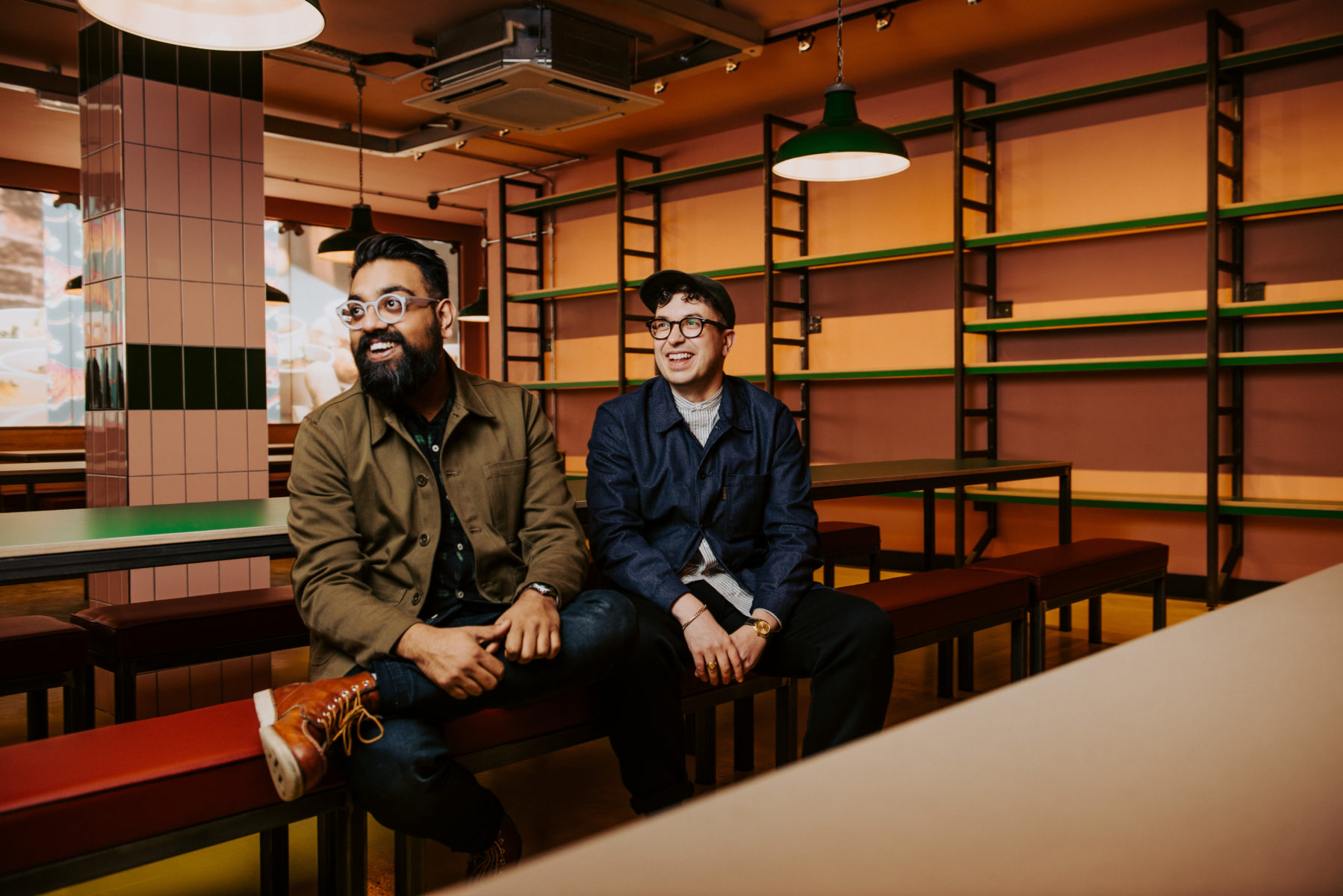 There have been hundreds of press pieces about the Bundobust boys and their upward trajectory, from collaborative pop-up to multi-venue behemoth. But Marko and Mayur are very much still two normal guys from Bradford; guys who worked very hard to make their passions and talents into their professions. 
This article traces their journey as it was at the time, looking back to remember how each new aspect of their growth felt – because if any Leeds independent foodie business is one to look up to, it's Bundobust.
Had Bundobust always been a dream, lodged somewhere in their minds? The answer is yes, at least when it comes to Mayur. "My brother brought this up the other day, actually", he tells me – "we found a notebook where I scribbled ideas for Prashad when I was young – it was basically Bundobust!" Growing up around his mum and dad, hard at work at Prashad, it's difficult for Mayur to imagine having taken a different career path. "Growing up in the industry, I don't think I could've done an office job – it's pure passion for what we do." 
Both Marko and Mayur have the crucial two elements for any business – dedication and expertise.
"We're both passionate about what we do," Mayur affirms - "championing vegetarian food, unknown Indian food, and craft beer. When we got our heads together we thought it was an incredible concept."
Marko Husak
Incredible, in some ways, because it is both so familiar, and so extraordinarily new. Indian food and beer is a long-established, infamously well-loved British pairing. "Growing up in Bradford, it was – massive naan, free poppadoms, a dinner to absolutely fill you up – but people only wanted to spend a tenner. Why?" Mayur muses.  His mission, alongside his brother Bobby (who heads up Prashad now), is to completely rewrite this expectation. "This food is just as complex as the pasta you're happy to spend £20 on. If not more so. It's our mission to try to get Indian food on the right sort of level, both via Prashad and via Bundobust. They're two ends of the market – fine dining and street food/casual dining – and it's about doing both of them really well."
"Living in Bradford subliminally made us both think, hang on – both ends [of the business – beer and curry] are basic", Mayur recalls. "We love curry houses, and a good lager. But that's all there was." Despite the varied and diverse population in Bradford, the set "Anglo-Indian" curry was all you could get. "There was nowhere doing anything different," Mayur affirms. "You could go to any Indian in Bradford and get the exact same menu and products."
Bundobust's Indian food similarly thwarts expectations. Whilst there are the familiar things like bhajis and poppadoms (albeit done in new and exciting ways), there are also more fulfilling, intricate and healthy dishes to sink your teeth into – think tarka dal, paneer tikkas and masala dosa. "People used to think of eating Indian food once a week as a treat – that it wasn't good for you. Even us guys at Bundobust couldn't eat Ango-Indian food every day! We're all about fresher flavours, lighter dishes," which is exactly what Bundobust serves up.

Ben Bentley
From one venue to three and counting
The Bundobust story, above all, is an organic story. Without 5 year business plans, Marko and Mayur just worked hard at every venture, and slowly smiled as they watched it work. "We aren't strategic thinkers,"  Mayur admits, "we just have ideas and crack on." It took a year of planning before they set up Bundobust in bricks and mortar, whilst they got the food right and the concept nailed down, but it was obvious that doing their homework over that period paid off. "For me, the eye-opener was the queue at Leeds when we opened," Mayur remembers. "It was going round the corner! We thought, right, we might have to employ some staff! It was only me, Marko and two others at that point!"
For their first, Mill Hill venture, the money was tight. "We were really on a budget. A lot of it we did ourselves, it was quite DIY," Mayur explains – "but we were both hungry for it. Marko had Sparrow, which was a similar size to Prashad back then – so we'd both grown up in a smaller setting; we wanted to come to the big city – which was Leeds."
Despite the organic nature of their growth, they both had always dreamed big. "We always wanted to open a Bundo in the big cities! We wanted to make a multi-site operator that had a bit of a backbone;" Mayur clarifies, "there are a lot of multisite operators out there but they're about the bottom line." It's always been about a lot more than money for Marko and Mayur. "Personally, I'm chuffed with the team we've developed," Mayur goes on. "Our staff retention is incredible – we have guys who started with us. Chris Botham was assistant manager in Leeds. We open more sites in some ways so that people have enough progression." There is a Bundobust career ladder, and they welcome people working their way up. "You could work hard, and grow to be a GM in Manchester, for example. We'd have wanted to do it [open more sites] regardless, but we also wanted to take the team along with us."
I ask Mayur whether opening their Manchester and Liverpool venues was less scary, or scarier, than opening their first Bundobust on Mill Hill. "Manchester was a funny one," he tells me. "We just looked up what property there was available in the Northern Quarter – we don't have property agents scoping for sites like lots of restaurants have. It had been vacant for 4 years – it was a damp, nasty space no one wanted to touch," he recalls. "With a bit of naivety, we decided we'd make it work." But it wasn't all plain-sailing. "It was such a bad site – it had so much damp", Mayur reflects – "it was touch and go. But it's the site with the most character now!"
Similarly, in Liverpool – "it was a third floor site not many would go for". But that's something that makes Bundobust venues so special, I suggest; there's something rewarding about knowing about a place that feels a touch secret. "It's part of Bundo's DNA," Mayur agrees, "we become everyone's private find – it's a cool feature!"
So far, Bundobust has managed to maintain its high standards and attention to detail across three sites. I ask if that's hard, and if it's an important factor as they grow. "More sites 100% means challenging our reputation," Mayur says. "We all take it really seriously – the way everything looks is very important, as we know people will Instagram it – we know it has to look the same in Leeds as in Liverpool." And it's not just look, of course, but taste. "It's about having the right standards and getting that across to the team – who all totally get it now", he assures me. "It's taking serious care about every single element. We're not measuring every gram", he points out.
"It's got to have soul. But it's got to be consistent, and the quality has to be consistent"
Marko Husak
They want to ensure the same experience across their sites. "It's a challenge when they're a few hours away – but we visit each site a few times a week," Mayur admits.
Looks to Kill
For any pop-up owner looking to move into bricks and mortar, Bundobust is again an exemplar. With a discernible Bundo "look" which is nevertheless tweaked to be specific to each site, I ask about the design concept they started out with. "The original Leeds look has a lot of the cues we use in both Manchester and Liverpool," Mayur points out, but these weren't all down to design statements – "they came about because of budget. We've had to be clever with the material we use – in my opinion that's what prompts creativity." Having financial restrictions made Marko and Mayur look to unusual sources when they initially decorated, and their eye picked up a design palette, which has become a concept across all the venues. "You've got to think of things that'll look cool, rather than just pay for them" Mayur stresses – and that is probably what makes the Bundobust look so authentic. It isn't contrived – it is just two guys with a great eye and not a massive budget making a venue look informal, cool, and fun.
"Each site we do, we come up with a new idea, or new material, and try to use it in a different way", Mayur reveals.  "One theme is the panelled doors; we have a section of that in each site." The highly Instagrammable doors that bedeck the walls are probably one of the most memorable design features of the Leeds venue. "Originally, me and Marko were trying to find a reclaimed panel door," Mayur explains. "We found one on Gumtree, on a weird farm in the middle of nowhere. Turns out he had 300 doors," Mayur chuckles, "and they were all living offgrid up there, having a rave.  We just loaded up the van with 60-odd doors." They came up against an obstacle, and used it as a design process. "We had this massive wall and couldn't afford artwork or tiling. Using doors felt cool." The sites get refreshed along the way, too, Mayur clarifies. "We go back to each site – Leeds has had quite a bit of work done to it – it gets updated as other places inspire it." Both Mayur and Marko clearly have a feel for design – "we're both very visual and look at the detail," Mayur agrees. "We both really buzz off it. We'll find inspiration. Our ideas, sorted out via a builder, is how it works."
One of the discernible Bundo aesthetics is arguably Drew Millward's prints. "Drew is a good friend from early days," Mayur explains. "We commissioned a set of prints for Leeds, and it's something we've done for each site so far. He takes hints from each city, and localises it for each site. We also have a great relationship with Awesome Merchandise, so make merch for each city – it's more design work, that we love. It's the Bundo lifestyle store!"
As Marko recently revealed, another site in Manchester is pretty much lined up. "It's a carpark at the moment, it doesn't even have walls" – this doesn't seem to intimidate Mayur as much as make him even more enthusiastic – "it's going to take a lot of work. That's essentially going to house our brew kit; the next logical step for Bundo." Bundobust have done plenty of collab beers, of course – "Northern Monk do our Bombay Dazzler which we love, but we want to start brewing the more crazy stuff we think will go with our food." Mayur goes on to explain that it's coming full-circle, back to an equal weight on food and beer. "We want to link it back up. Both sides of the business are important to us, beer and food – we wouldn't want to sell anything rubbish in either the bar or the kitchen. So we want to get into the brew space."
And what's the long term Bundo aspiration? "Our dream is to get our products to people. Pretty much every time we open a site, people say 'When is one opening where I am?'  – we're doing something different, and it's nice if we can offer that in as many cities as we can." Any new venues on the horizon, post-Manchester 2.0? "At the moment we're having a little look around", Mayur says. "We looked at Newcastle, and further north, but we could potentially take it down south too. In the next year or so we'll start moving, but we definitely want to open more Bundos, that's for sure."
A seemingly simple recipe for success, Bundobust is built on hard work, expertise, talent, and a bit of luck too. "The message was there", Mayur stresses – "people liked Indian food. It's really good, and no one's taking it seriously. That's the organic nature of the two businesses we come from", he goes on, "Prashad were always doing something different, and Sparrow were doing something different too. It wasn't a completely new thing. We didn't come up with the concept – but great Indian food and great beer as a concept sort of found us two, and put us together."
(originally printed in C81 printed Journal Issue 1)