May 10, 2019
Introducing C81 – Meet Beverley
In this blog instalment, we meet Leeds Indie Food's Queen of Social, Beverley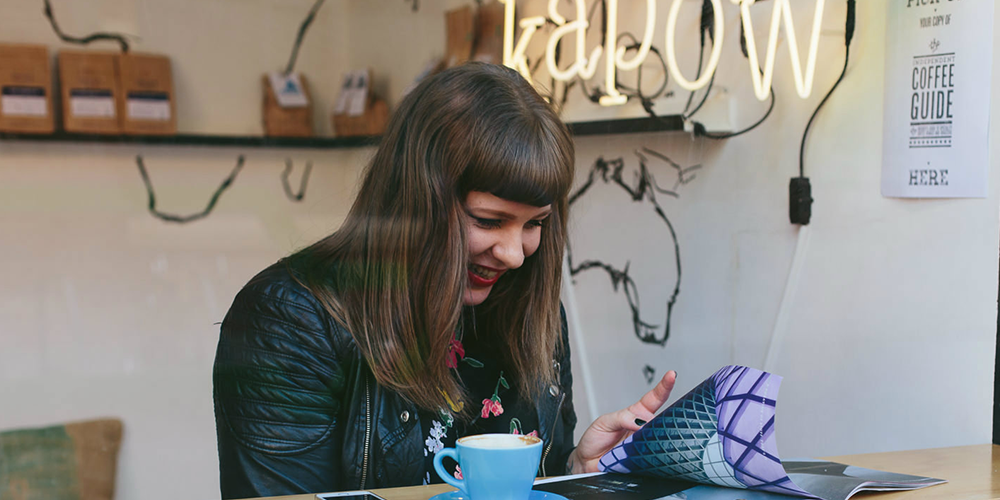 Q: Describe yourself in a couple of sentences
I'm a freelance social media manager specialising in indie food, retail, and events who loves solo city breaks, oat milk flat whites, and reminding everyone that 'B' or 'Beverley' is acceptable, 'Bev' is not. I generally have more than one book on the go at any one time, I'm terrible at taking care of my children (other people call them "houseplants", I believe) and I like nothing more than exploring a new-to-me city with just my camera for company.
Q: Give us your professional journey so far
I studied Media and Marketing at Leeds University, graduated in 2007, and pretty much went straight into an ad sales role at an agency in Stamford, Lincolnshire. After 3 years there (during which time I realised selling ad space probably wasn't one of my strong points or actually what I wanted to do at all) I moved to Australia on a Working Holiday Visa.
The point of a Working Holiday Visa is to earn money to travel rather than further your career so I found myself doing a variety of jobs while I was there. I worked in events in Sydney, on a vineyard just outside of Bendigo, and as a barista in Melbourne.
I wasn't quite ready to head back to the UK after 2 years in Australia, so I spent a year living and travelling in New Zealand before finding a job as a PR Consultant at an SEO agency in London and beginning my career in digital marketing.
I learned a lot at that agency – from the basics like how to write an effective press release and create social media campaigns, to using data-lead interactive content to improve a client's link profile and get coverage on sites like Buzzfeed and the Guardian – and when it came to moving back to Leeds in 2016 and going freelance in 2017 I was able to offer my clients not just help with PR but also social media management and copywriting.
When I first went freelance I said yes to pretty much any work that came my way but I've since narrowed down what I do and now I mostly work with independent businesses in the food and retail sectors to help them improve their social media content and manage their online communities.
Q: What other work do you do?
Most of my work involves ongoing social media management, but I also take photos for social for a few clients, set up and manage email newsletters, write blog posts, and from time to time I do a bit of travel copywriting too.
Q: Why work for Chapter 81?
I think the best thing about working for Chapter 81 is the fact that we're all freelancers so everyone's got something different to bring to the team as a whole. We have an awesome office right in Leeds city centre and I love how the work we do supports Leeds' independents.
Q: How did working with Chapter 81 come about?
I met Simon at OnRoundhay festival in 2016. I was still working full time at a marketing agency and managing live social at the festival for one of their clients. We stayed in touch and last year when he was setting up Chapter 81 he asked if I'd like to join the team on a freelance basis.
Q: What do you do at Chapter 81?
I manage the Leeds Indie Food social media channels, which includes things like supporting Leeds' indies and promoting our events; Leeds Indie Food festival, ChowDown, and Eat North. I'm also responsible for managing social for some of Chapter 81's clients and persuading Simon to limit the amount of Taylor Swift/ Paramore we have to listen to in the office.
Q: Where do you hope to see Chapter 81 in the future?
Playing fewer Taylor Swift songs in the office.
Q: What does Leeds mean to you? / What do you think of the city?
Leeds was the first city I moved to on my own so it'll always be a special place for me. I miss The Cockpit and Fab Cafe (am I showing my age now??) but I love how strong the independent scene is here and the events across the city that support that. I think our public transport system is a joke and I genuinely can't remember the last time I got on a train that was on time, but for the most part I've got a lot of love for Leeds and I can't see myself leaving Yorkshire anytime soon.
Q: What does the future hold for Leeds' food, drink & lifestyle sectors?
As a veggie I'd personally like to see even more veggie food options adding their diversity to the great roster of food already available here in the city.
Q: Tell us a weird fact about you
In New Zealand I jumped down an underground waterfall backwards while glowworm spotting in Waitomo. Also I hate mangoes. Which is weirder?