October 3, 2023
Leeds International Festival of Ideas celebrates it's biggest year
The four day festival welcomed an electric lineup of celebrity speakers, including Steven Bartlett, Ruby Wax OBE, Davina McCall MBE and Bimini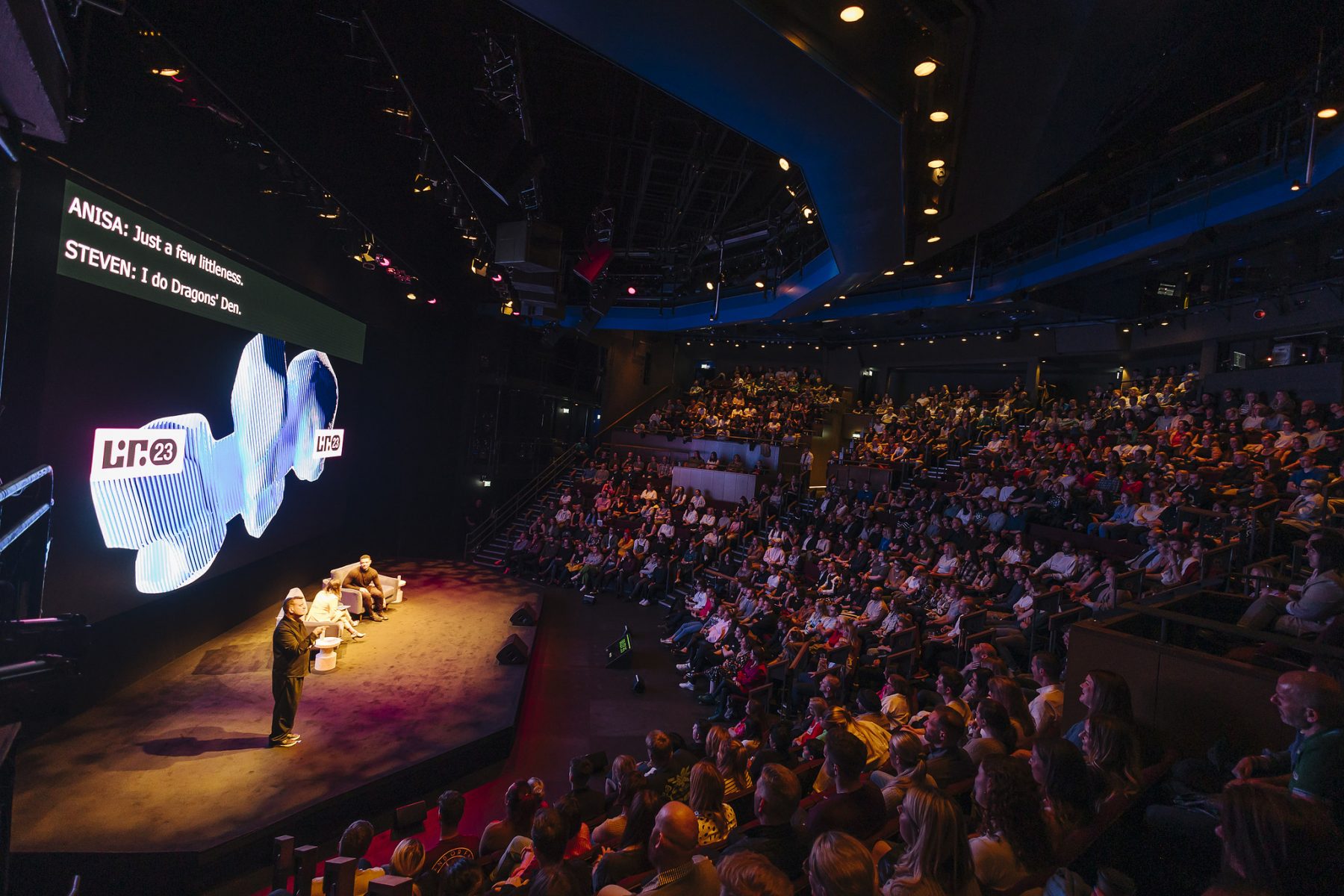 Saturday saw the Leeds International Festival of Ideas 2023 (LIFI23) come to the end, closing the curtain on four days of powerful talks from some of the country's most influential faces. Taking place at Leeds Playhouse, the festival saw a stellar lineup deliver personal conversations on some of the most pressing topics of our generation.
In front of an estimated audience of 5,000 people, the festival brought together incredible names to delve into conversation, connection and curiosity. The event brought to the stage stars such as Steven Bartlett, Davina McCall MBE, Ruby Wax OBE, Bimini, Christopher Eccleston, and Rob Rinder. The stars were amongst 39 speakers, across 11 events and 2 stages.
Martin Dickson, Festival Director said: "What a week – the atmosphere each day at the iconic Leeds Playhouse was amazing and the conversations that you could hear were inspiring to say the least. Huge thanks to all our speakers and the audiences who attended and got involved with the diverse discussions going on. Work on LIFI24 begins next week."
Exploring pressing topics of the modern day, including women's health, climate change, cryptocurrency, true crime and gender fluidity. These topics were explored through a series of panelled discussions and one-on-one 'fireside chats'. The festival also had a continued partnership with Waterstones allowing audiences to delve deeper into each event through related reading.

Tom Martin
The opening evening of LIFI23 saw entrepreneur and 'Dragons' Den' star Steven Bartlett lead a conversation alongside Anisa Morridadi, in which the two spoke about the 'New Generation of Entrepreneurship'. Exploring Generation Z and their approach to working, the chat reflected on Bartlett's career journey, touching on his personal views of quitting, motivation and how to be successful. Bartlett was seen separating from his 'Dragon' persona at the end of the show, where he was seen giving career advice to a thirteen year old audience member, as well as signing a book for her.
On the same evening, a talk titled "When Will Women's Health Be Taken Seriously?" saw a panel of experts discuss the inequalities women face when it comes to health and medical treatment. Renowned TV presenter Davina McCall MBE was part of the panel, which was composed of Dr. Christine Ekechi, Lauren Mahon, Cherry Healey, Gabby Jahanshahi-Edlin and Kenny Ethan Jones. Together, the group tackled topics such as menopause, endometriosis, conditions related to infertility and gynaecological problems, bringing personal and emotive experiences to the forefront in this powerful 90 minute conversation.

Tom Martin
Thursday saw a trio of events take place at the Leeds Playhouse. In the morning, barrister and TV personality Rob Rinder led a discussion with journalist Lotty Leeming, exploring the laws that shape our everyday lives. The energetic chat, titled "Invisible Rule of Law", looked into the thousands of laws that sculpt our society, giving an insight into our democracy, freedoms and the role of authority. Rinder's chat was followed in the evening by "Could Living The Good Life Save The Planet?", a panel discussion focused on upcycling, sustainability and climate change. TV personality Matt Baker MBE led the discussion, and was joined by sustainability champions from across the industry, including Doug McMaster, Banjo Beale, Flavia Cacace-Mistry and Clare Lewis.
The headline event for Thursday evening was Drag sensation Bimini, who led a discussion held by fellow 'RuPaul's Drag Race UK' star Divina de Campo. The two held a chat called "A World Beyond The Binary", which was a hilariously powerful insight into gender fluidity and the LGBTQIA+ community. Stating "community is more important now than ever", Bimini drew on personal experiences of being non-binary and how it shaped their career in the industry, whilst also recounting how the current political climate is reverting the rights of trans people throughout the country.

Tom Martin
LIFI23 had a thought provoking Friday, with topics centred on true crime and mindfulness. The evening kicked off with a panel event titled "What's Our Obsession with True Crime?", in which Louise Shorter, Richard McCann, Dr. Coltan Scrivner, Gemma Whelan and Mark-Williams Thomas delved into the nation's morbid curiosity with true crime. The lineup featured those personally involved with true crime cases, including Richard McCann, whose mother was Peter Sutcliffe's first victim, and investigative journalist Mark Williams-Thomas, who helped expose notorious paedophile Jimmy Saville.
Later in the evening, comedian and best selling author Ruby Wax OBE delved into the topic of mindfulness, comically recounting her personal experiences and how they got her into meditation. The "My Journey To Mindfulness" discussion, which was hosted by Sarah Powell, was a hilarious yet personal insight into Wax's career and journey, including her experiences in a 30 day silence retreat. Stating "the way you talk to other people is the way you think in your head", Wax led a personal and powerful conversation on keeping the brain calm, and even delivered a grounding exercise for the audience to take part in.

Tom Martin
LIFI23 was concluded on Saturday 30th September, in which four events were held across the day and evening. The first event, titled "Who Does Our Political System Benefit?" saw Jon Sopel, Tom Brake, Magid Magid, Amber Rudd and Scarlett Westbrook discuss political polarisation in the UK, amidst ongoing political tensions and a lack of trust between the country and its government. This was then followed by an insightful discussion on cryptocurrency, in which Danni Hewson, Sir Jon Cunliffe and Tom Duff Gordon chatted about the possibilities of a cashless society. The three chatted about the Bank of England's central bank digital currency (CBDC) and its parallels with cryptocurrency, which is defined as one of the biggest challenges of our generation.
In the evening, a stellar lineup took to the stage to discuss the topic of grief. Dame Prue Leith OBE was joined on stage by Dr. Jamilla Hussain, Silvan Luley, Lucy Turner and Will Young, who together led an emotional discussion on the difficulty of approaching loss. Bringing their unique perspectives, the panellists considered the multiple ways people react to loss, and the complex methods in which people handle it. In support of this powerful discussion, LIFI23 partnered with Projecting Grief, a pop up photography exhibition that explores personal stories of loss, healing and creativity.
To round off the fantastic four day event, renowned actor Christopher Eccleston was interviewed by Lisa Holdsworth in a discussion titled "Arts and Culture – For The Many; Or The Few?". Eccleston gave a personal insight into how the working class have a disadvantage when it comes to approaching the arts, and the struggles faced by disadvantaged youth starting out their careers in performing. Stating during the chat that it was his job to "help working-class children leave behind imposter syndrome", Eccleston touched on his own journey to fame and the difficulties he encountered along the way.

Tom Martin
With a stellar lineup and powerful range of topics on offer, LIFI23 has proven to be the biggest one yet, wowing audiences in its unique approach to sharing ideas. Through collaboration and curiosity, the festival has brought together influential speakers to deliver their voices to an audience of like minded individuals, and in turn has left an outstanding mark on the city of Leeds.