May 4, 2022
Big Chat: FINT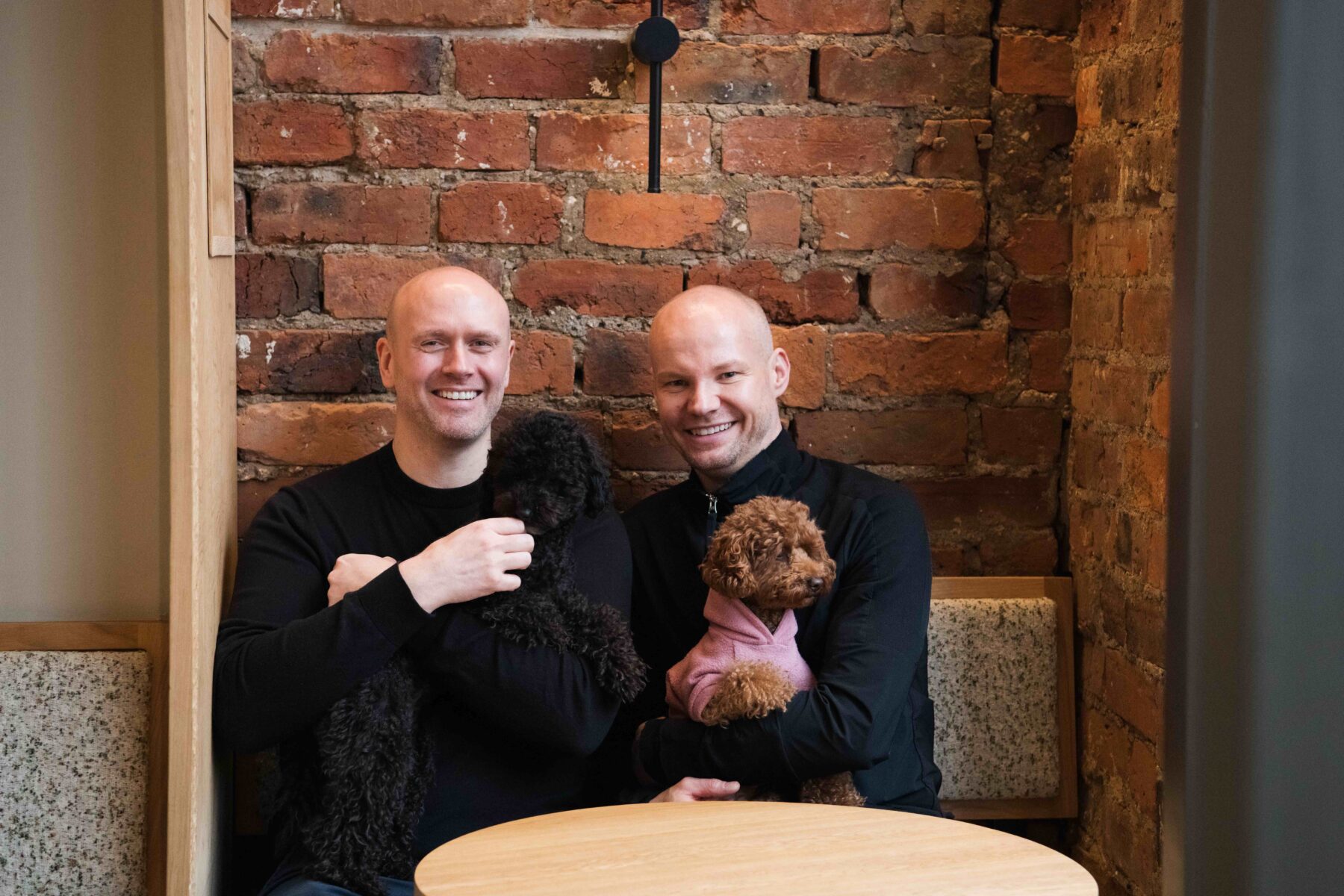 From evolution to inspiration: in conversation with FINT
Having not just survived the challenges of the pandemic, but used the past two years as an opportunity to create a whole new dining concept, FINT represents a clear success story of the Leeds foodie scene. We sat down with the team to find out more about the story behind this unique restaurant – from its Scandi-fusion aesthetic to its sustainable, omni-friendly menu. 
Let's start with the FINT story so far. What's the concept, what inspires you and how did it all begin?
Life is full of 'rush' – whether that's at work, at home, or while shopping. We want to be somewhere you can relax, enjoy leafy surroundings, great ingredients and inspiring flavours. Our co-founder, Kamil, is of Norwegian descent, and the look and feel of FINT takes a lot of inspiration from Scandinavian culture.
You recently evolved from Fettle to FINT tell us a bit about that?
FINT is essentially what we had always envisioned Fettle becoming. Fettle opened just under five years ago as a 'coffee shop with nice food' – but the food took over rapidly and we became more of a restaurant. 
But the concept wasn't designed as a restaurant, and there came a point where we had to start again to make it work for us and our customers. We also wanted to add wines, spirits, cocktails, and our evening dinner service.

What made now feel like the right time to change things up?
The pandemic and the stresses and struggles we went through trying to survive one day to the next put a bitter taste in our mouth. That just made it the perfect time to lay Fettle to rest, rip it all out and start again with a fresh new look, feel and menu. 
What are your values as a restaurant – what are the core things you offer customers that others don't right now?
We believe in keeping our environmental impact down – globally, by having a completely renewable electricity supply, and locally, by encouraging our guests to eat in rather than using single-use plastics.
We're registered with the Living Wage Foundation, which means our team are all paid at least £9.50 per hour. Some of our team members are paid almost double what they would be elsewhere, and tips are always shared with the whole team.
We use amazing ingredients and we make everything ourselves, which allows us to work with our chefs and enhance their skills as we do. Our waiting team also gets the opportunity to learn about food and wine pairings.
We maintain a smaller menu, which both reduces food waste and provides a great vegan offering. When we start creating a new menu, we begin with a few great vegan dishes and work out the rest from there. We've found that having a strong vegan offering leads to some incredible omni dishes for others.

Tell us about the menu – what's on there, what's popular, and what are your personal favourites?
Our new spring menu is lighter and brighter taking inspiration from the colours springing up all around us. On our Daytime menu we have our take on an English Breakfast using local bacon and Cull Yow sausage: cull yow are an older sheep that, in our case, have been given a lovely retirement to thank them for their years of service. Our organic beans have flavour notes of Swedish Brown Beans and, along with the pickled mushrooms and nigella seed raagmunk [potato pancake] really rounds off our nordic take on this morning classic. Of course, our vegetarian guests haven't been forgotten with an option to have a sausage from Meatless Farms and tofu scramble for our vegans.
Our smorrebrod [open sandwiches] have had a refresh. Using our sunflower seed sour cream on corriander seed bread, along with other bits, we now offer smoked chicken breast from Staal Smokehouse over in Hull as an option along with salmon gravlax or organic local citrus tofu.
We prefer to use big, hearty spinach instead of the baby leaves but using that requires a use for the stalks which we are now cooking and drying before making them into vibrant green gnocchi served on top of a bright orange carrot salad for a flash of seasonal colour. Maybe wear sunglasses before ordering this one.
It wouldn't be a spring menu without asparagus would it so we've created a creamy dill terrine for the evening which is served with salmon gravlax.
Our vegan guests have the option of ravioli stuffed with cavolo nero and pumpkin seeds with a creamy lemon dressing whilst our omni guests may like to try our veal fricassee. I don't like to talk about animals as a waste product but unfortunately, this is exactly what veal is. There was an understandable public outrage in the 80's and 90's around veal and, despite its production now being a world apart from those days and the UK having a large dairy industry, it's a shame we consume so little of it.
For dessert we've paired Norwegian peppernut cookies with a vegan coffee creme caramel or perhaps you'd fancy a cardamom honey cake with macerated strawberries. In the evening we offer a drinks pairing and this dessert is the first time we're not pairing with a glass of wine, instead we're offering a Cinnamon Basil tea which is organically grown by a family in central Portugal: perfect end to a relaxed meal.
Your venue has an iconic, stylish aesthetic – creativity and design clearly being an important part of the Fint brand. Can you tell us a bit more about that, and what inspires you?
We're only a few minutes walk from the city centre, but people often see us as much further away, so we need to be worth the journey! That's the key to everything we do – it's why even our poached eggs on toast are a little more special than you might expect. 
Kamil's Norwegian roots inspire the calming, fresh Scandi look we love, but instead of pine, we've used lots of British oak and walnut in the restaurant. Being a deeper coloured wood, this is more local, more sustainable – and creates an inviting warmth.
The past 18 months have been challenging in so many ways. What key challenges did you overcome during the pandemic, what did you learn in the process, and how have you adapted to emerge stronger?

We tried out a number of different ideas throughout the pandemic. Our food had to be boxed up when we weren't allowed to have guests dine with us, which meant we had to adapt dishes to make sure they were both box-friendly and still looked good after transport.
Even now, with fewer people back in the office, we've had to focus on our evening offering. It's all about catering for the crowd who have been working at home all day, and are ready to come out for dinner and meet up with a friend or two.

What are your proudest moments as a brand so far?
Just before the pandemic, we won the Best Newcomer award at the Yorkshire Life Food and Drink Awards – against stiff competition, including Roots in York. But that was when we were Fettle, and now we're looking forward to picking up a few more awards as FINT.
Our proudest moment so far has been staying open during the ongoing pandemic – that and the huge amount of support we've been shown from our regulars.
Where are your favourite places to eat/drink when you have a night off?
We love going to The Swine That Dines and seeing what Jo and Stu have been up to in the kitchen. The Moorcock Inn over near Halifax – where our co-founder, Simon is from – is also a favourite. We also love a trip to the Cross Keys and the Kirkstall Bridge Inn for a few drinks and something a bit more informal with our dogs.
What's next for Fint – what have you got planned for the coming weeks and months, and what do you hope to see?
We have a great outside space. It needs a lot of work to make it a useable drinking and dining area, but we're already planning that – hopefully for the summer.
And what about the long-term – what are your ambitions for 3-5 years' time?
We do have this space to expand in our current site, and our large outdoor, sunny yard to the rear is a priority. After that we're keen to seek out a site to open something a bit different to FINT.