September 5, 2023
Thackray welcomes back popular 'Insights' Lectures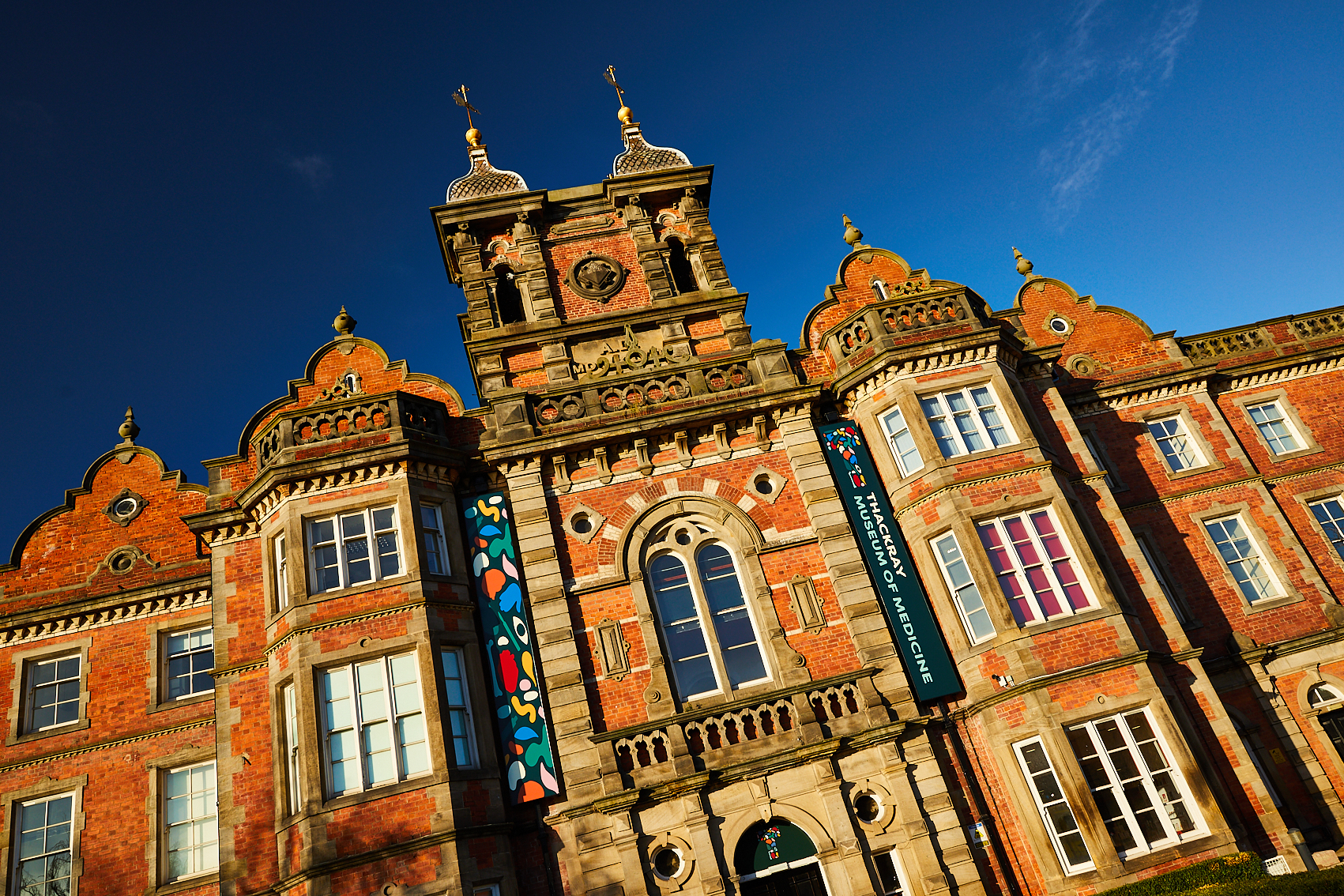 Thackray Museum of Medicine is announcing the return of their popular 'Insights' lectures. The annual series of talks will be held at the Museum this coming October, inviting a range of guest academics to talk about the development of medicine from various historical perspectives.
Lectures will explore into the weird and wonderful world of medicine and healthcare, looking into the social and scientific influences behind its development. A handful of academics invited to speak at the Thackray Museum this year includes Dr. Kersten Hall, Prof. Sanjoy Battacharya, Dr. Stella Butler and Dr Jonny Geber. Full details of speakers and their talks can be found at the bottom of this press release.
The announcement of the new 'Insights' series comes just before the Museum Heritage Open Days festival, in which the public are invited to delve deeper into the history of Thackray's iconic Victorian building. Taking place in September, Heritage Open Days is England's largest community led festival of history and culture. For their events, the Thackray volunteers will be giving you a taste of what life was like in the Museum when it once stood as a Victorian workhouse in 1861, and as a 1951 WW1 war hospital. 
Exploring the good and the bad, these in depth talks piece together fragments of history pulled together by heritage volunteers, and bring to life the intriguing, and sometimes disturbing, past that lays behind the building's walls. You can hear of the tales of men embarking on harrowing journeys for treatment during the first world war, what life was life like on the wards, and of some of the inmates who lived in the workhouses – from a destitute dance instructor to the criminal dubbed the 'Terror of the Workhouse'.
To further delve into the history and unexplored stories of the Museum, Thackray have also announced a brand new Culture Club Late, a free evening of workshops, talks, exhibitions, food, music and workshops curated by young people from around East Leeds. In collaboration with Sable Radio, this weekly youth club, for people aged 16-21 from East Leeds, focuses on exploring healthcare and medical histories through creative media. Utilising creative mediums, from photography to podcasts, members of Culture Club gain experience and skills that will transfer to real roles in the creative industries, whilst also learning more about the history of medicine and shaping how we tell its story at the museum. Join them at this special event – free for all ages – as they explore the hidden stories of Leeds heritage that have previously been overlooked and under-celebrated.
Both the 'Insights' lectures and Heritage Open Day events bring new and thought-provoking perspectives to the museum and the topics it aims to teach. With the Heritage Open Day events free to book, and the 'Insights' tickets starting at £10, this is the perfect way to boost your knowledge and have a whole lot of fun. For more information on booking, you can visit the Thackray Museum of Medicine's website HERE.

Jo Ritchie
7th OCTOBER: POISONS AND CURES
Dr Kersten Hall and Dr Elizabeth Hunter
Dr Kersten Hall charts the story of insulin, including a transformation from what one doctor at the time described as simply '15cc of thick brown muck' into what is now Wall Street gold. Meanwhile, Dr Elizabeth Hunter explores the dangerous path that was navigated in early modern medicine between cure-all remedies and lethal poisons. 
4TH NOVEMBER: FORGETTING FLORENCE NIGHTINGALE
Dr Stella Butler and Dr Laura Sellers
Dr Stella Butler explores the synergies between Nightingale's pleas to hospital governors over a century ago and the scientific advice presented in 2020 about air movement in reducing the spread of infection.Dr Laura Sellers argues how new, imposing medical institutions of the era were doomed to failure from the off, quickly becoming places for experimentation and research.
___
13TH JANUARY: A SHARED STRUGGLE – EXPERIMENTATION, KNOWLEDGE AND EMPIRE
Professor Manuel Barcia Paz and Dr Alexia Moncrieff
Professor Manuel Barcia scrutinises the exchanges and debates had among medical practitioners of the time, and how through practices including experimenting with human bodies, these ultimately led to new ways of controlling and dominating entire populations. 
Dr Alexia Moncrieff,  a Lecturer in Modern Global History at the University of Leeds, e explores stories of disability and migration in the British Empire in the aftermath of the First World War. 
___
3RD FEBRUARY: THE POLITICS OF PANDEMICS
Professor Sanjoy Battacharya and Dr Hannah Elizabeth
Drawing on decades of research on the WHO's smallpox eradication programmes, and the implementation across South Asia, Sanjoy explores the deep divisions and historical misrepresentation that can be found in this area of study. He discusses the harmful and long-term impact of such an exclusionary practice, and questions can this complicated history act as an inclusive compass for the future?
Dr Hannah Elizabeth explores the emergence of collaborative activism amongst HIV-affected doctors, social workers, and mothers, that spanned professional, political and personal boundaries. Through these deeply personal stories, they demonstrate how others can learn from the quiet and small-scale activism that shaped Edinburgh's response to the AIDS crisis.
___
2ND MARCH: CLIMATE CHANGE, A HEALTH EMERGENCY
Dr Virginia Murray and Martin Schweiger 
It has taken over 2,000 years to develop our current understanding of climate change, yet there has been too slow a recognition of the health consequences that are only set to increase. Martin Schweiger tells the evolving story of climate change, what has been done already and the steps still to be taken. 
Professor Virgina Murray then discusses the impact of climate change to air quality, including growing air and transport hazards seen the world over. Through UN Landmark agreements including the Paris Agreement on Climate Change, she explains how governments plan and action their strategies for health and disaster risk management in this rapidly changing field.
___
6TH APRIL: RAISING THE DEAD
Dr Shirley Curtis- Summers and Prof. Keith Manchester
Dr Curtis-Summers' will draw on bioarchaeological research and multidisciplinary evidence to reveal what we can learn about the lives, and deaths of people from Scotland's past. But, as Prof. Keith Manchester explores, these studies do not tell us the story of the individual's journey with the disease – the pain they felt, the psychological trauma and the other effects on their daily life.
___
4TH MAY: FEAST AND FAMINE
Dr Jonny Geber and Dr Iona McCleery
Dr Jonny Geber tells the stories of misunderstood communities during the Irish Famine, and charts how bioarchaeology has helped to shed light on their lives from their perspective, to uncover the truth about their history. Meanwhile, Dr Iona McCleery considers the combined impact of colonialism, the slave trade, and climate change on health and nutrition in West Africa from the 17th Century onwards.