March 8, 2022
Welcome back Chow Down! Our favourite food and drink experience returns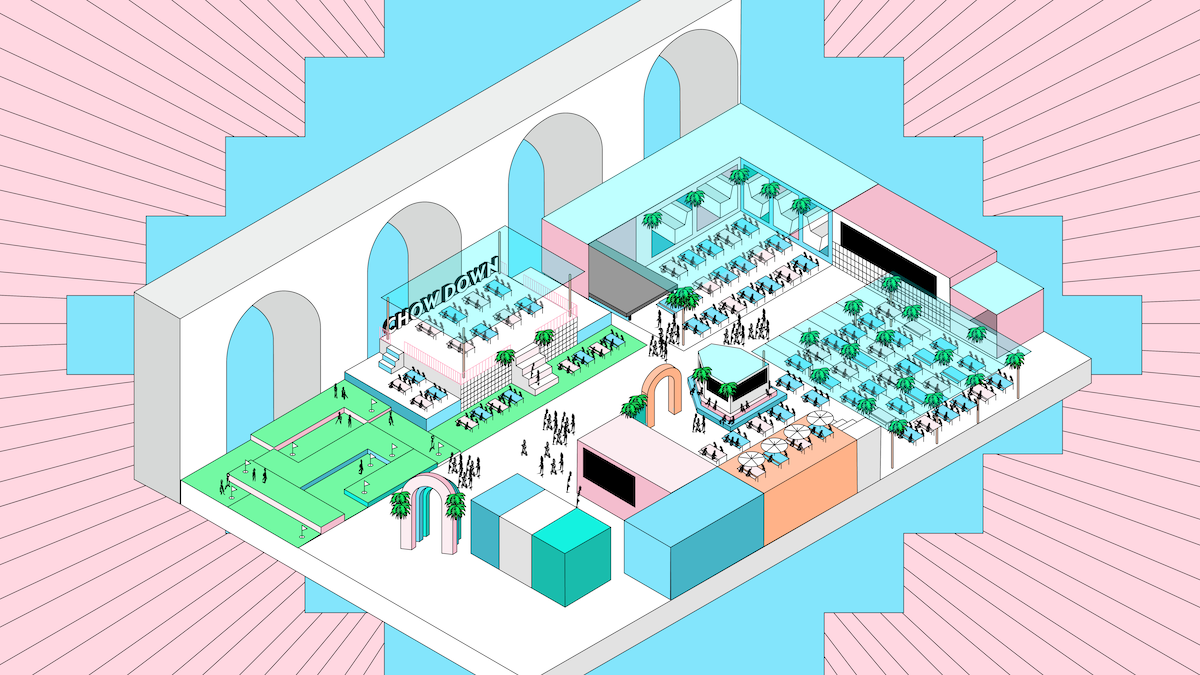 We're making steady headway into 2022, and with spring fast approaching and Easter just around the corner, we bring the exciting news that Chow Down is making the comeback of the year down at Temple Arches.
It's one of Leeds' most popular places for outdoor drinking, dining and entertainment, and after a blazing run in 2021 – culminating in the cosily festive Winter Village – is back for more from April 14th until September 4th this year. Landing just in time for the Easter break and set to open its doors every Thursday, Friday, Saturday and Sunday until early autumn, the coming months are looking seriously bright for Chow Down, and we can't wait to get stuck in.
With a brand-new concept and a load of fresh spaces, bars, food vendors and more, Chow Down in 2022 is all about turning the arches into a summer haven. From the 'Downtown Food Village' and the three-tier 'Sunset Club' to the themed 'Tanqueray Terrace' and the 'Palm Swings' crazy golf green, fun will not be in short supply this year.
Drag Brunch will be back and bigger than ever, with a packed lineup of queens ready to strut their stuff to some anthemic tunes throughout the warmer months. More entertainment will take place in 'The Bay', another brand-new area complete with a 360 DJ booth and set to feature acts including Greg Wilson, The Cuban Brothers, DJ Paulette, Norman Jay, Shades Collective and Mr Wilsons Second Liners. There'll be live bands on Thursdays, DJs on Fridays, local music on Saturdays and brass bands on Sundays. It's going to be big.
As huge fans of street food, we're beyond excited about the scran this year's Chow Down has to offer. The Downtown Food Village will be home to two resident kitchens, with MorMor bringing its signature Middle Eastern, North African and Mediterranean grub, and Sarto serving up yummy pasta and sharing boards. Later in the year, we'll get the chance to enjoy Detroit-style pizza from Boro Slice, parmos from Parmageddon, barbecued bites from Holy Mountain and steak from Asada Kitchen – all of which will be sticking around for a few weeks at a time.
Personally, we're not worried about going hungry, but if you need any more reassurance, the weekly rotating kitchen line-up includes Bastards Bistro, Spuds and Bros, Little Red Food Truck, Twisted Meal, Tikka Chance on Me, Big Mouth Gyoza, Mans Market, Bao to the Sando. It's all about keeping it fresh every week, with something new and tasty to sample each weekend.
After the roaring success of the Winter Village, we can't wait to see spring and summer come to life down at Temple Arches. With around 50 traders ready to grace Leeds' biggest outdoor hospitality space between now and September, the bar is set higher than ever, and with food, drinks, entertainment and golf galore, it'll most certainly be one to remember.
Bookings for April and May open on Thursday 10th March, so head over to the Chow Down website to bag your table before they sell out! Doors are open from 4.30pm until 11pm on Fridays and Thursdays, 12pm until 11pm on Saturdays and 12pm until 9pm on Sundays.