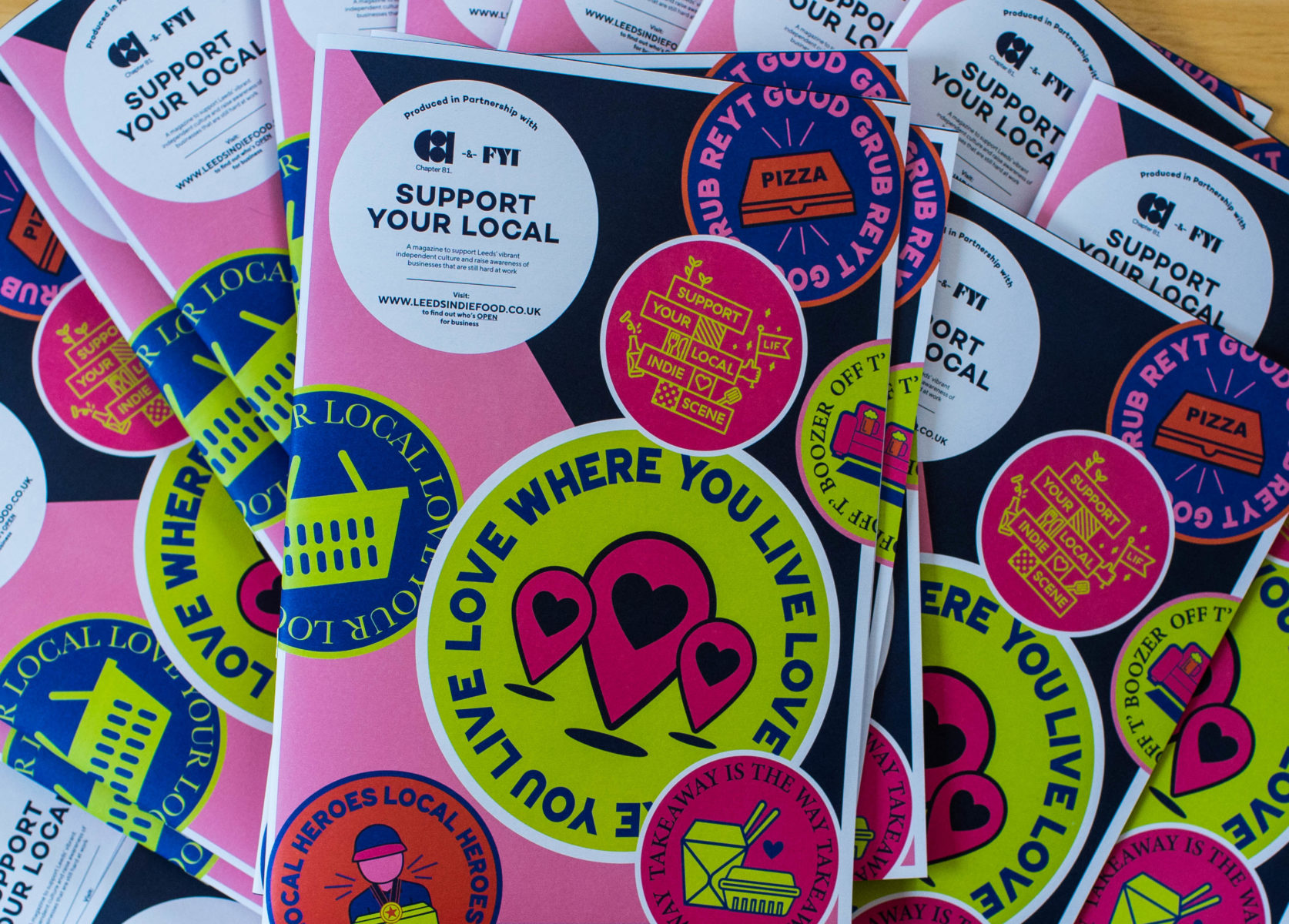 Case Study
Lockdown Magazine
Concept, Project Management, Editorial, Social
"Over recent months we've worked on several community projects to 'do our bit' for no fee. We've supported Leeds' enjoyment industry for over 10 years, so when Simon approached us it was always a yes to collaborating. Our door's always open to projects like this, they add another dimension to life at FYI as well as supporting our community."
Dave Crapper, Director at FYI:
The Idea
A magazine for lockdown dreamed up by ourselves and brought to you with help from FYI, Leeds Living and Leeds City Council. This project was created by more than 50 contributors and includes 23 recipes, features on comedy, football, and music, tips for making bread and brewing coffee, alternative ways to support independent businesses (including t-shirts) and more. 10,000 copies were printed on 120gm uncoated (so you can colour in the doodles) and distributed across Leeds with a digital version that followed. 
The Brief
Create an A4 magazine to be distributed to Leeds in lockdown. The main focus of the magazine was to highlight indie businesses following on from the Indie Directory that I put together, it will also act as a reminder to people of the lovely small businesses that are shut currently. Content includes recipes from your favourite indies, wellbeing tips, tips on hair cutting at home (from Indies), and doing exercises at home, reminding that the city will awake again. The opening feature is a letter to Leeds in the future, which sets the tone of the magazine.
The Results
A 40 page magazine featuring indies and thought pieces, puzzles and doodles whilst showing you ways to support indies. The open letter to Leeds really does set the scene of the magazine and a massive 50 contributors / collaborations.  At Leeds Indie Food, we want to create and encourage collaboration. That was always the ethos. Pulling together this magazine has been a true labour of love for the amazing community. This was a tough one to get going as we all thought about what was right and wrong to do in these times, should we be delivering a magazine in lockdown? Especially at the beginning of lockdown. It also proved harder to pull together with everyone stuck at home. It shows real team effort which is something we need to all work on. Issue 2 is already in the planning stages and telling the stories of businesses during COVID as we all look at recovery. 
200+
Supporting small businesses